In Home Personal Training Boston
Do you live in or near Boston and have you been thinking of working with a Personal Trainer? Since 1991, the experienced Personal Trainers of Satin Wellness specialize in customizing fitness plans for people over 50 and we bring fitness right to you.
You have finally found an effective and safe way to improve or increase your health and fitness. Just think of how enjoyable it would be to work out in your home while getting your trainer's undivided attention with in-home personal training?
In addition to seeing clients in Boston, our experienced Personal Trainers work with clients in Cambridge and the surrounding suburbs. For more information about our Boston in home personal training programs call us at 508-341-6697.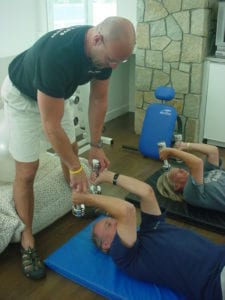 Our experienced professional Personal Trainers see clients in towns around Boston including:
Belmont
Brookline
Cambridge
Newton
Wellesley
Weston
As the CEO of a company, I always found it hard to make the time to exercise. Due to travel, family and the hours I worked, I thought it would be impossible for me to get healthy. Luckily, I found Satin Wellness. I've worked with many of their Wellness Specialists (Mark L, Ben S., Pat B., and Amy S.).
I see Steve during the winter in Florida and he'd be there at 5:30 am or 6:00 pm and put me through a workout that was fun and engaging. I'm not the type that would just do a workout. I needed to know all about the program and why I should do each exercise.  All the Wellness Specialists are knowledgable regarding any physical issues I'm dealing with at a particular time.  I've had lower back, knee and shoulder issues that have all been resolved.  
I enjoy using LROME™ and love everyone I've worked with.  
If you need to get stronger or reduce pain and don't want to deal with a gym, look no further than Satin Wellness
 T. M., 63-Year-Old – 9 year continuous client