In Home Personal Training Cape Cod
Do you live or summer on the Cape?  Have you been thinking of working with a Personal Trainer?
Since 1991, the experienced Personal Trainers of Satin Wellness specialize in customizing fitness plans for people over 50 and we bring fitness right to your home.
You have finally found an effective and safe way to improve or increase your health and fitness.  Just think of how enjoyable it would be to work out in your home while getting your trainer's undivided attention with in-home personal training!
For more information about our Cape Cod in home personal training programs call us at 508-341-6697.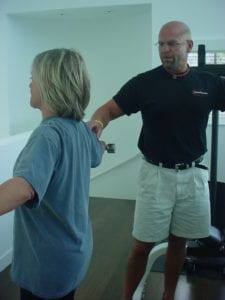 Our experienced and professional Personal Trainers see clients on Cape Cod in the following towns:
Bourne
Falmouth
Mashpee
Sandwich
Cotuit
Marstons Mills
Barnstable
Hyannis
Yarmouth
Yarmouthport
Coming out of a 9-month stay in a rehab hospital after suffering a brain injury with intense atrophy, Ben Satin changed my life.
Before working with Ben, I could not even support my neck and could barely walk.   Ben changed all that by bringing this brain, body, muscles, and strength back, but infinitely more important he showed me how capable I was.
The LROME™ program is amazing! I got new confidence which was hard to find, especially after a traumatic injury. The time we spent together was full of laughs and smiles, well encouraged work and Ben helped to get me back and then some.
David P., 37 year old – 9 year continuous client