In Home Personal Trainer and Rehabilitation Specialist
Boston | Cambridge | Milton | Quincy | Newton | Waltham | Watertown
If you are interested in working with Mark, please contact him at 508-341-6697 or email – mlink@satinwellness.com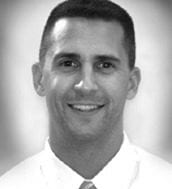 His career has taken him from physical therapy clinics to 5 star health clubs and he has always maintained a connection to personal training. 
In addition to working one on one with clients, Mark's passion for helping others achieve their health and wellness goals has driven him to help other personal trainers develop the necessary skills to Mark specializes in working with clients over 50, addressing the unique needs of this clientele as they strive to live a healthy and active lifestyle. 
An avid golfer himself, Mark designs golf specific programs for others with a love for the game.
Mark's passion is to assist his clients to improve their strength using LROME™
LROME™ is a proprietary and scientifically proven strength training methodology developed that focuses on strengthening specifically challenged muscle groups, is safer to use than full range of motion exercises and eliminates momentum and that makes LROME™ safer on joints and muscles. LROME™ was developed in 1981 by Steve Satin and is being used by over 600 people to increase muscle strength in a safe and effective way. It focuses on specific muscle groups and limits the risks normally associated with larger movements.
Certifications:
LROME™ Certified Senior Wellness Specialist
CHEK Institute Golf Biomechanic
Z-Health R-Phase programming and is a
NSCA Certified Strength and Conditioning Specialist (CSCS)