An experienced cyclist (and client) wanted me to ride with him during the pandemic.

Read the story below
Chapter One: The Beginning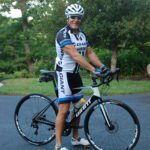 The last time I'd ridden a bike didn't go well.  It was during a Sprint Triathlon in 2005.  A Sprint Triathlon is a race that has a swim, bike and run component to it.  A client was in training and asked me to do it with him.  The race was the next day.  As a 45-year-old and an avid runner, I thought "Sure, why not, what could go wrong?" 
As I started to get ready that afternoon, I realized my bike at that time hadn't been ridden in 15 years.  The tires wouldn't hold air.  What to do?  I asked many friends for a loaner but none had a road bike.  I finally found one.  It was a women's bike, and it was quite small.  When handed lemons… you know how it goes.
The first portion of the race was a ¼ mile open ocean swim.  The last time I'd swam was in a pool and it was a couple of laps, followed by some sun-bathing.  I got in the ocean, took 3 strokes and my surgically repaired left shoulder told me it wasn't going to happen.  Plan B.  Side stroke for ¼ mile open ocean swim.  Yuck.  I finished 630 out of 660 racers.  
Then came the ride portion that went "okay".  I finished 500 out of 660 racers on a tiny women's bike with wide tires.  Thank goodness there was no bell, basket, or streamers of the handlebars.
Lastly came the run.  I finished in 30th place out of 660.  Race over, bike returned.
On to February 2020 and my client wanting me to ride with him.  As the President of a Virtual Personal Training company and an avid runner, I thought, "I can do this".  Little did I know what I was in for.
As a runner, all you need are shoes, shorts, a tank top, and maybe a water belt with some flasks.  
With cycling, my client sent me a quick rundown of what was needed:
   

A road bike

   

Cycling shoes

   

Cycling pedals

   

Cycling cleats to hold the cycling shoes to the cycling pedals

   

A cycling computer

   

Radar system (so you don't get hit by a car)

    

Helmet

   

Cap

   

Sunglasses

   

Cycling shirts (long and short)

 

   

Cycling pants (short and long)

   

Cycling gloves (short and long)

    

Cycling jacket (rain and wind)

   

Heart rate monitor

   

Water bottles

    

Nutrition solutions (before you ride and after you ride)

   

Tools (seat bag with tubes, Co2 Cartridges, and a patch kit)

   

Hand pump

   

A light for the handlebar

   

And a

 

very

 

understanding spouse
As I discussed the associated costs and the training time commitment with my wife, she said "If it makes you happy, go for it".  She knows me well and that when I have a new challenge, I tend to go all in.
Off I went to area bike shops and online to find all the equipment I need to get started.  There were no bikes available due to the pandemic, so I had to look elsewhere.  A friend told me to look on Facebook Marketplace and OfferUp.  I found a road bike that was my size, and it was very light.  I didn't know that could be an issue.  It was a Time Trial bike, which means it was used to ride a road course very quickly.  Not a great bike to start with, especially for a person who weighed 196 pounds.  What did I know?  
Over the next few weeks, Amazon was coming to our home daily with package after package and I was trying to figure out how to put all the equipment onto my bike and get it road worthy. 
I was ready to get right out and find the open road.  My wife, thank goodness, told me to, "go ride a few times in our community to get comfortable".  Thank goodness I listened.  After taking time to figure out how to get my shoes into the pedals, I forget they're locked into the pedals, stopped, and fell over.  Painful lesson number one of many to go.  I felt like a baby deer taking its first few steps.  
Step one: complete.  I rode around my community of 2.5 miles without falling.   
Lesson one learned:  Taking up a new sport at any age requires education, trial and error, investment of time and money, and it can be incredibly motivating! 
Lesson two learned: The strength and flexibility I've developed over the years helped me more than I realized.