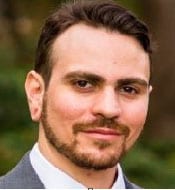 In Home Personal Trainer and Rehabilitation Specialist
Boston | Hingham | Cohasset | Scituate | Norwell | Marshfield | Cohasset | Duxbury | Plymouth | Bourne | Sandwich | Falmouth | Mashpee | Osterville | Barnstable | Centerville | Hyannis | Yarmouth
Contact Ben at 508-341-6697 or email  – bsatin@satinwellness.com
Ben Satin has been using LROME™ since 1999.  In recovery from multiple surgical joint procedures in his youth, he learned that LROME™ could help him return to Ice Hockey and Lacrosse.
As a certified Senior Wellness Specialist, Ben specializes in addressing the unique needs of his clients, no matter their age as they strive to live a healthy and active lifestyle.
Ben sees clients in the Boston area, South Shore, and on Cape Cod. He assists them in reaching their goals in a safe and effective manner.
His passion for helping people has brought him to join the Satin Wellness team and he's excited to use the LROME™ methodology that he's worked with for years.
LROME™ is a proprietary and scientifically proven strength training methodology developed that focuses on strengthening specifically challenged muscle groups, is safer to use than full range of motion exercises and eliminates momentum and that makes LROME™ safer on joints and muscles. LROME™ was developed in 1981 by Steve Satin and is being used by over 600 people to increase muscle strength in a safe and effective way. It focuses on specific muscle groups and limits the risks normally associated with larger movements.
Certifications:
2015 – LROME™ Certified Wellness Specialist
2019 – LROME™ Certified Senior Wellness Specialist
2018 – WITS Certified Personal Trainer
2018 – CPR –American Heart Association