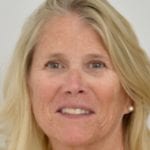 In Home Personal Trainer and Rehabilitation Specialist
Bourne | Falmouth | Hyannis | Mashpee | Osterville | Sandwich | Yarmouth
Margie Mitchell is a certified Wellness Specialist in the LROME™ (Limited Range of Motion Exercise) methodology. LROME™ is a scientifically proven and proprietary strength training methodology that is safe and effective for all people. It is used by our over 400 Clients on the East Coast.
Margie was a Physical Education Teacher for 35 years and in the last 10 years, she turned her attention to to teaching adults to swim.  
She's always been passionate about helping others reach their personal health and wellness goals and in the last few years Margie has also helped clients pay attention to their spirit, mind and body.  
Using her years of experience, she assists clients of all abilities to understand the benefits of all dimensions of fitness including strength training, cardiovascular exercise, swimming and flexibility.
Having known Margie for the last 25 years, I have witnesses her motivate her clients to successfully meet their physical goals and to improve their self-confidence.
LROME™ is a proprietary and scientifically proven strength training methodology developed that focuses on strengthening specifically challenged muscle groups, is safer to use than full range of motion exercises and eliminates momentum and that makes LROME™ safer on joints and muscles. LROME™ was developed in 1981 by Steve Satin and is being used by over 600 people to increase muscle strength in a safe and effective way. It focuses on specific muscle groups and limits the risks normally associated with larger movements.
List All Education/Certifications:
LROME™ (Limited Range of Motion Exercise™) Certified
B.S. – Westfield State College – Physical Education 
Masters Bridgewater State College – Nutrition
Red Cross Water Safety Instructor
CPR/AED through April 2019

Interests:
Strength Training, running, swimming and spending time with husband and son